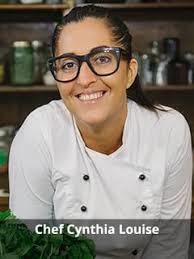 BIOGRAPHY
Hello! I'm Chef Cynthia Louise. I'm a publisher, co-author of 3 international bestselling cookbooks, with Dr. Libby Weaver;  REAL FOOD CHEF, SWEET TOOTH STORY & REAL FOOD KITCHEN… I'm super proud to work alongside this incredible human who has taught me so much when it comes to how we absorb food.
For years, I have worked in exclusive Health Retreats where I was limited to the number of people I could support. And now I can through 4 different online cooking classes where I guide you 24/7 in your kitchen from mine to create meals that serve your organs and ultimately give you a deep understanding of how good does matter.
I have a Cooking Retreat called NOURISH, it's a 5 ½ day hands-on cooking retreat. The retreat is designed to give you great insight on the importance of ingredients like good fats, legumes, vegetables, nuts, seeds, spices, herbs and how to use high mineral salts in cooking. All while using plant based ingredients and becoming more comfortable in the kitchen, making it a less stressful time and more of a nourishing time. The skills, techniques and recipes you will learn are for life.
The retreat is spectacular and is for all ages.
I'm also the creative food director of the global brand GENIUS CAFE, building 50 cafes worldwide. It's a joy to train the next generation of chefs on how to look after themselves and their customer's ultimate health with what they are serving on the menu.
I am an international speaker and presenter on wholefood cooking and eating the way nature intended us to be when it comes to living a thriving energetic life.
What makes me crazy is all the confusion out there about what to eat! I want to bring some clarity and realness to your table. I'm a working mum, wife to Scott and a businesswoman. I know how hard it is to find the time to nourish ourselves and our families.
I am here to give you everything you need to make your own extraordinary everyday food, from scratch, using real ingredients.
I share this knowledge with humans all around the world. Real people. Real ingredients. Food as nature intended. Food is such a special gift, and I love its ability to bring people together and to nourish us on all levels – I love it!
I am a big supporter of women's health, gut health and well-being through the way I teach about cooking and eating (taking the bullshit out of eating really).
I work alongside Tyler Tolman in his health programs and retreats educating people on making epic dishes from plants that support their ultimate health and taste amazing.
Well, that's me.  I can't wait to meet you.
Chef Cynthia xx
PICTURE
SHOWNOTES
Cynthia has been living in Bali since 2012 but grew up in Papua New Guinea
Cynthia started off in the food court after being inspired by home cooking with Jamie Oliver and opened up her first fish and chip shop in Hobart, Tasmania
After being told she was a talented cook by friends and family she was inspired to become a chef at 34 years old and a single mum to her then 9 year old son.
Fueled by her passion she went for her first job as a chef at a health retreat in Queensland and was told she was "too old" and "untrainable", she persisted and became a first year apprentice cooking for $5/hour. In her training, she was finding that her training involved a lot of processed and refined food and found disillusioned with the way she was taught, again she persisted and became second in command of the kitchen.
Cynthia then became a special food/dietary consultant and eventually opened up her own restaurant with her friends.
Her path to looking at food and herbs as healing and raw food diets then became the quest for her and becoming a face for wellness and health of wholefood, plant-based diets on the media internationally.
Cynthia's definition of happiness is waking up and feeling into the potential.
Cynthia's first thing she does as her routine is asking herself, why she does the things she does and goes for a 5km walk.
The top things that make Cynthia's heart sing is growing, being aware, and reflecting and asking herself if she can change and evolve. She loves training chefs and sending them into the next phase of their lives.
Cynthia's last meal on Earth would be rice, olive oil, broccoli and salt!
Cynthia believes the best thing we can do for our health is asking yourself where your mindset is. Are you thriving on negative or positive thoughts? How do you harness your potential?
Cynthia's dinner guests would be her son, her husband and dear friends
Her theme song is "Coming in from the cold" by Bob Marley
The things that make her laugh out loud are her family and friends
Her gratitude practices includes thanking herself for being alive and being grateful
THINGS DISCUSSED