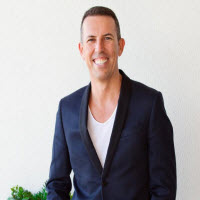 BIOGRAPHY
Adam is a highly sought-after Amazon expert who has shared the stage with Tony Robbins, Gary Vaynerchuk and Robert Kiyosaki.
 He is the author of the best selling book, "Primed - Your guide to building a thriving Amazon business" and his Amazon course has been sold into over 40 countries globally with his students having now sold almost $500 Million dollars worth of products on Amazons marketplaces. 
He is the co-founder of Reliable Education and a seven-figure Amazon seller himself. 
His companies have funded over 8,000 interest-free micro-loans to entrepreneurs in third world countries and they have also funded thousands of free eye surgeries for the blind in Indonesia, a country where more than 4 million people are blind because of curable eye diseases
PICTURE
SHOWNOTES
Adam has been an entrepreneur for the last 25 years and does work in the software industry and the real estate industry. His starting point is in education programs online.
The strength of his work comes in the form of microloans with benefitting third world countries and charity programs
His students are based all over the world but predominatly Australian and has recently returned from a summit he headed in Brisbane
Happiness on the other side of Gratitude
Adam's definition of happiness is peace of mind
His morning routine involves water and lemon, heading to the beach and learning to surf and meditation
The biggest thing that people can do for their health is understanding that stress can impact physical health according to Adam
Adam is lucky to have a vegan chef as a girlfriend so he is lucky as he has a plethora of favourite foods
Adam's first hero was his mother and philanthropic entrepreneurs
Christopher Hitchens, Richard Branson and his Mum would be fantasy dinner guests
Dave Matthews Band would provide the soundtrack to Adam's life
Stand-up comedy is Adam's go to for laughing out loud
Adam's gratitude practice is simply living in a state of gratitude and the biggest thing he could recommend for us to do is to "pay it forward" whether it's a donation, or a smile, to enhance our own personal philanthropy.
BOOKS
The Untethered Soul: The Journey Beyond Yourself – Michael Singer
The One Thing – Gary Keller
Shantaram – David Gregory Roberts
THINGS DISCUSSED
Website: Reliable.Education
Instagram: @adam_hudson_official