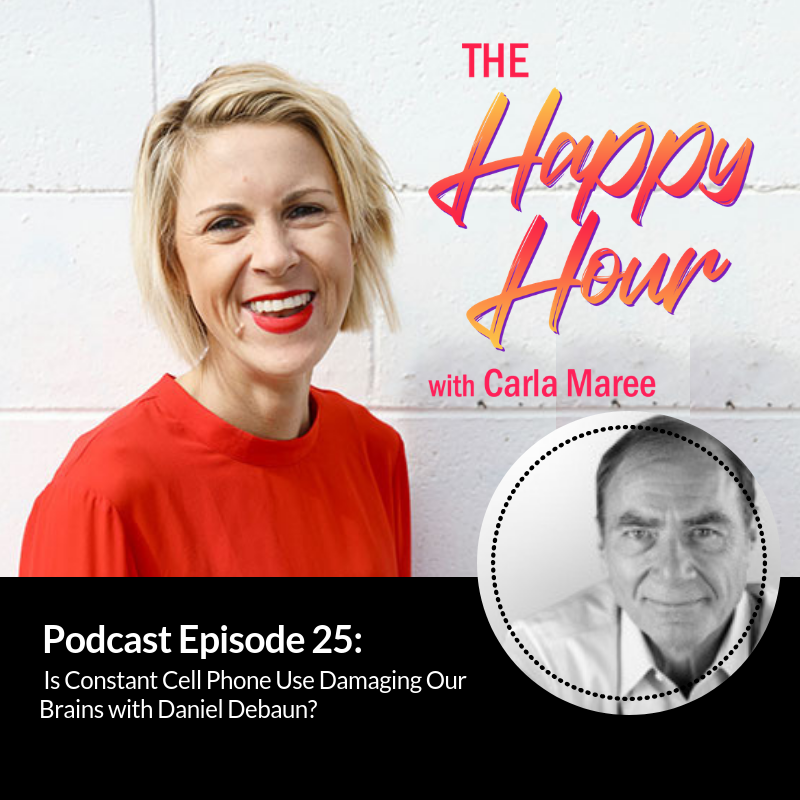 BIOGRAPHY
ABOUT THE GUEST: DANIEL T. DEBAUN
Daniel DeBaun is an internationally recognized expert in EMF radiation, EMF shielding, and EMF-related health issues with special focus on the effect of exposure from mobile devices such as laptops, tablets, and cell phones. Daniels concern regarding the health impact of EMF emissions grew from over thirty years of engineering experience in the telecommunication industry, where he held a variety of executive positions at SAIC, Telcordia, AT&T, and Bell Labs. He is the co-author of Radiation Nation: The Fallout of Modern Technology.
SHOWNOTES
Daniel first discovered about the dangers of radiation with his own sons after creating a protective shield to help them with radiation from their laptops
Electromagnetic radiation comes from everywhere, even low levels created from Earth and light but mostly comes from transmission signals through electronics.
Daniel discusses light on the electromagnetic spectrum and the dangers of radiation
Daniel talks about the dangers of the heat coming off electromagnetic radiation and the microwave signal and the impact to health
Daniel offers ways to help combat some of these issues to protect ourselves to this unnecessary exposure especially those at risk groups like women who want to fall pregnant
Daniel's definition of happiness is exercise and loves hot power yoga – he feels it is the best form of education and health
Daniel's things that bring him joy are family and friends, keeping them close and enjoying their company, finding hobbies such as fishing, and eating. Daniel's favourite meal would be pasta.
Daniel's fantasy dinner date – would be his father and uncle and a surprise guest.
Daniel believes that people need to take ownership of their own health.
THINGS DISCUSSED
Is Constant Cell Phone Use Damaging 
Our Brains?
Telecom insider Daniel T. DeBaun reveals health risks of mobile devices in his book, Radiation Nation: The Fallout of Modern Technology, and offers solutions for minimizing danger.
According to former telecommunications industry executive Daniel T. DeBaun, the constant and ever-increasing exposure to Electromagnetic Frequency (EMF) radiation emitted by cell phones, tablets, laptops, WiFi and smart meters is one of the most critical health issues facing our society today. 
Not only can EMF radiation adversely affect those of us who use mobile devices, but studies indicate that EMF radiation is especially harmful to our children, many of whom begin using wireless communication devices before they learn to talk, says DeBaun, who with son Ryan co-authored the book, Radiation Nation: The Fallout of Modern Technology. DeBaun says that a recent study of 350 children aged 6 months to 4 years found that nearly all the children (96.6%) used mobile devices and most started using them before age 1.
In Radiation Nation, DeBaun summarizes the latest scientific research linking EMF radiation exposure to everything from minor pains like headaches, to very serious concerns, such as fertility problems and cancer. Researchers found those males who used laptops for only a few hours showed reduced sperm count; women who placed cell phones in their bras developed tumors in the breasts; regular cell phone users have developed rare forms of brain tumors, says DeBaun.
Even though EMFs emitted from mobile devices can affect our biology, DeBaun says that doesn't necessarily mean that we must give up our gadgets. Fortunately, there are simple and effective steps we can take to minimize the risks posed by EMF emissions, and we explain those steps in the book, says DeBaun.
In Radiation Nation, Readers Will Learn:
What EMF radiation is and how it affects the body biologically
The major health risks, including fertility issues for both men and women, DNA damage, cell mutation, cancer and other serious health risks
The latest scientific studies are broken down by disease or condition
How EMF radiation specifically affects children and those suffering from electromagnetic hypersensitivity
Why the current safety standards for EMF are insufficient and need to be rewritten
The EMF sources of greatest concern
The most practical precautions you can take for yourself and your loved ones
There hasn't been one complete source for information regarding the EMF radiation safety issue. We wanted to change that. We've worked incredibly hard to write an easy-to-understand book. We think of the book Radiation Nations the ultimate EMF safety layman's guide for those looking to educate themselves, says DeBaun.
https://www.defendershield.com/ - promo code "happy20"