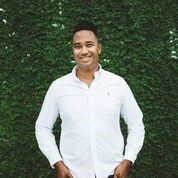 EPISODE – HAREVEE PENE
BIOGRAPHY
Harvee's first business was at 12-years-old, mowing neighbourhood lawns. Five years later, at age 17, Harvee had saved enough and bought his first investment property. He started his second business at 18 as a scaffolder, and five years later built it in to a large construction training and labour hire company. Wanting to 'get off the tools', Harvee started his next journey as a part-time intern in an accounting firm while studying accounting at Queensland University of Technology. Over the next five years, he helped build a change management consulting firm which helped over 600 accounting firms around Australia make positive impacts in their clients' lives; this company was later floated on the Australian Securities Exchange. That's where Harvee met Ben Walker – the founder of Inspire CA, and together they joined forces and now lead the award-winning team of life-changing accountants at Inspire. Harvee is a TEDx speaker and has spoken on stage alongside his business idol, Michael E Gerber. He is also the founder of Accountants For Good–a global movement that disrupts a very 'old school' accounting industry. Co-author of Cashed Up : the 7 step method to pull more money, time and happiness from your business, and Ambassador for Thank you Water and B1G1, Harvee's passion for spreading the good knows no bounds. Despite Harvee's success, it hasn't all been smooth sailing for him. Blindsided by testicular cancer, Harvee took this life-altering situation and with his typical true grit and courage, miraculously reduced the tumour markers by 80% in four weeks. As a numbers person, Harvee believes that family is number one. His mission is to create a business that gives him the freedom to always put family first and to help others do the same. In doing this, his mission to make a difference in the world will be accomplished
SHOWNOTES
Harvee's journey into business started at childhood as he learnt from an early age that business was a means to survival as he came over as a 3 year old from New Zealand to escape poverty with his family.
Lead, write and speaking are Harvee's key roles he does every day.
Wealth dynamics by Roger Hamilton was a key framework that changed the game for how he conducts his day-to-day life.
Harvee talks about where his businesses have impacted other people in other countries.
Being true to your life purpose is what Harvee's definition of happiness.
Harvee's gratitude and routine starts with family first and connection with them first.
Looking at your life's purpose and doing things that light you up is the way that governs your routine
Harvee discusses fantasy dinner dates
Gratitide practices that Harvee undertakes in the business and personal world are creating "team thank you circles" for the things they've seen each other do and achieve.
BOOKS
Chapter 1 – Daniel Flynn
Doing Good is the New Great – Harvee Pene (coming out in August 2019)
LINKS